Seems more adults are spending time with their mobile devices than ever before. It's no wonder mobile marketing is exploding these days.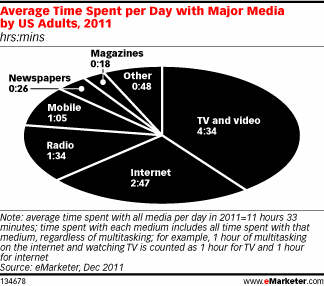 Adults are spending more time with their mobile devices than they're spending with print media, according to a report released Monday by eMarketer.
According to the New York-based market research firm, the average adult consumer spends 65 minutes a day on their mobile device, while they spend only 44 minutes with print media–26 minutes with newspapers, and 18 minutes with magazines.
This is the first year since eMarketer began taking their time tally in 2008 that adults have spent more time with mobile devices than with print.
Text "localbiz" to 90210 to learn more about mobile marketing for your business